D.5 Further Cosmology (HL)
Further Cosmology
Rotation curve & Dark mattar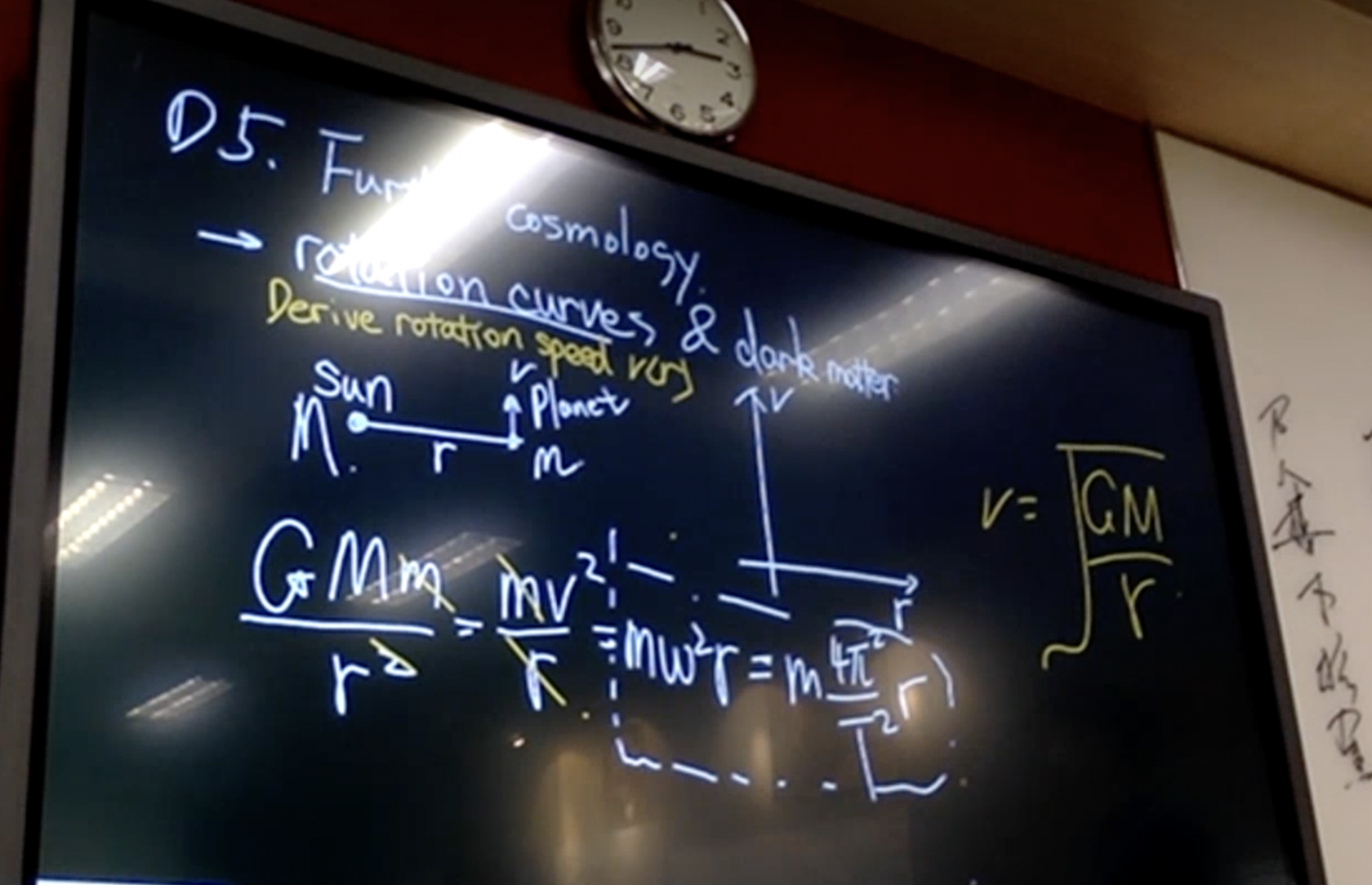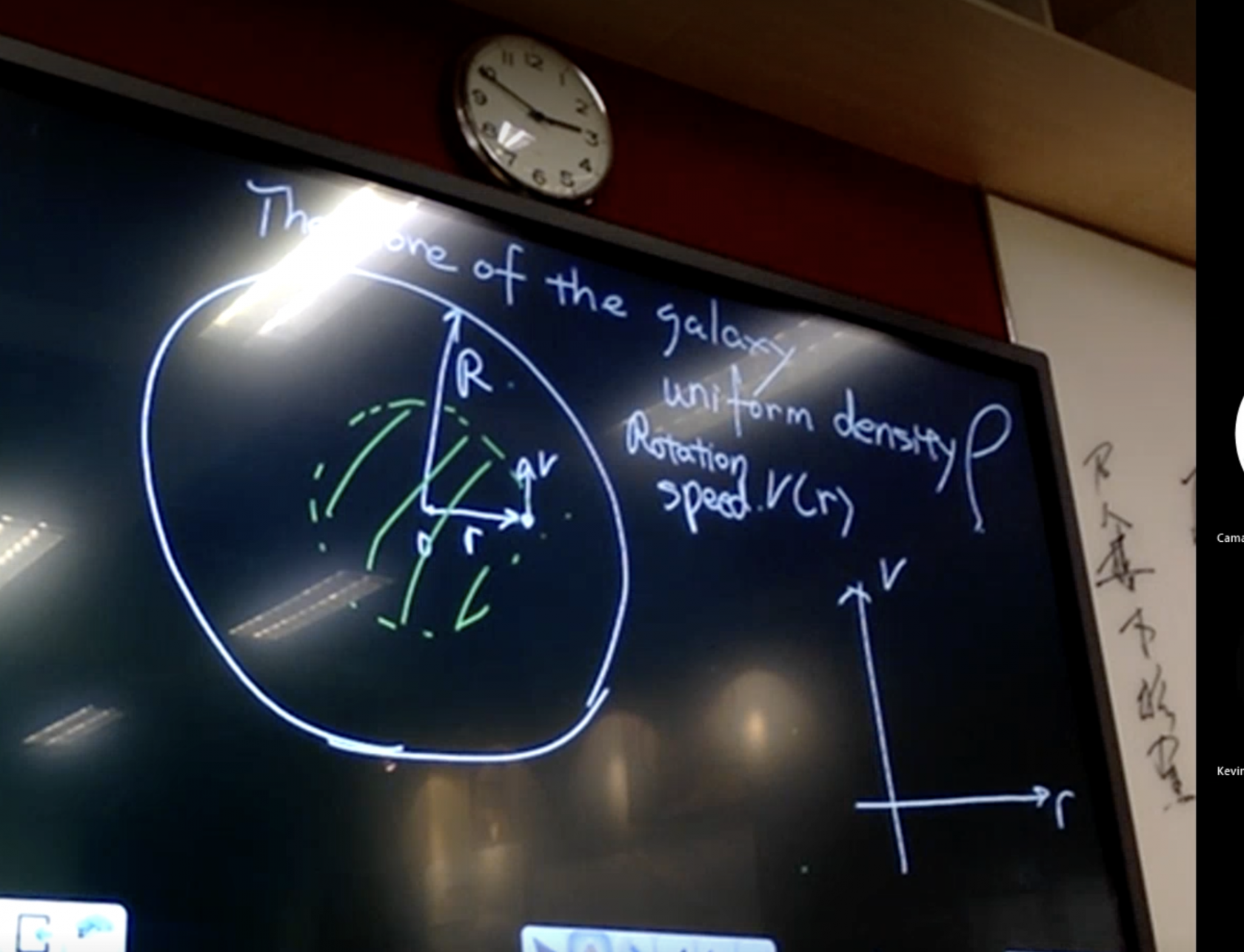 Rotation curve
$$ \frac{GMm}{r^2}=\frac{mv^2}{r} $$
$$ v=\sqrt{\frac{GM}{r}} $$
$$ M=\rho v=\rho\cdot\frac{4}{3}\pi r^3 $$
$$ v=\sqrt{\frac{4}{3}\pi G\rho}\cdot r $$
在这里插图片(写上公式)<=但这个只是理论,真实的是持平的(还要放observed和theoretical的对比图)
Density 可能是不均匀的
还可能有dark mattar
Evidence for dark matter
Rotation speed of galaxies is larger than expected at the outer region
There must be more mass at the edges than is visually observable indicating the presence of dark mattar
for v to stay constant for r greater than R, M has to be proportional to r
Dark Matter
Too cold, do not radiate, cannot be detected
Examples

MACHOs (MAssive Compact Halo Object)

Baryonic (由夸克组成的)
Examples:

Black hole
Brown dwarf 非常低温状态的白矮星

WIMPs (Weakly Interacting Massive Particle):

Forms a spherical halo around the galaxy, and accounts for tsame the "missing" mass of galaxies
Critical density
$E_{ko}=\frac{1}{2}mv^2$
$E_{po}=-G\rho\cdot\frac{4}{3}\pi mr^3$
Critical denstiy: $E=E_{ko}+E_{po}=0$
$\rho_c=\frac{3H^2}{8\pi G}$
E=0, $\rho=\rho_c$ (Zero curvature), the expansion will halt(stop) at infinity

E>0, $\rho<\rho_c$ (Negative curvature), the expansion will continue at infinity

E<0, $\rho>\rho_c$ (Positive curvature), the contraction will follow the expansion
The critical density is the density of flat, zero-curvature universe, resulting in universe expansion rate tending to zero.
38% maatargf
Creat applaued for ji]
68•
create empulse force that not only,put compacfing=e energy,哎是重点
落下了一夜PPT
Thewicn请,寄过
Homogeniry on: On a large enough grbckground
Isotropy:
Isotropy: if we look in current in ffdirectionaldirect calrefilly
The same
No-center/No-edigee
The cesronological priniple:
Homogeneity: on a large enough scale, the universe looks

Isotropy: If we look in different directions, we see essentially the same thing

As the universe expands, the temperature drops.

In the accelerating model, R increases faster and so theperature drops faster
Origin of Redshift
The space in between us and galaxies is stretching R上升
Wavelength strech up as well
CMB 这些人绘制测量的
COBE
WMAP
The Planck space observatory
The variation in temperature
T=2.723
Delta T=0.00003K
The reus;t of variasion indensity of matter and energy in the universe.
=> Stars & galaxies will be formed
Geometry of the universe => flat/zero curvature universe